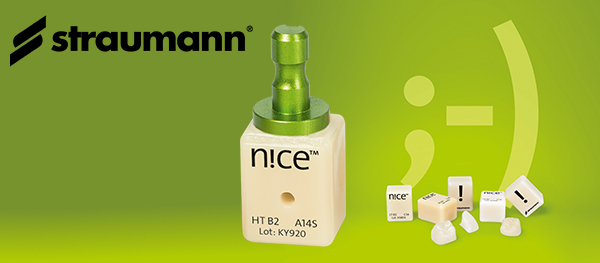 We are proud to announce the we have entered into a distribution agreement with the StraumannGroup to distribute their Straumann® n!ce® glass-ceramic blocks.
n!ce blocks are a new high-tech, glass-ceramic solution from Straumann®
that delivers fast, esthetic single tooth restorations
The n!ce® blocks(for in-house milling) are available in two levels of translucency: HT (High Translucency) and LT (Low Translucency). Both translucencies are available in shades Bleach, A1, A2, A3, A3.5, B1, B2, B4, C2.
FASTER TURNAROUND TIME AND INCREASED EFFICIENCY
Just mill, polish and seat, no need for crystallization firing saving
substantial time and effort for top performance quickly and easily
ADDED CONVENIENCE AND TIME SAVING
n!ce® is pleasantly simple and very reliable. With its smooth surface finish and margin lines, the restoration can simply be polished to achieve a high-gloss restoration
NATURAL APPEARANCE WITH HIGH STRENGTH AND LONGEVITY
The n!ce® material allows natural-looking and thin restorations for optimal
tooth preservation with the Straumann® quality assurance
These blocks can be purchased today at our e-commerce site
Turn time spent milling into time spent smiling ;-)