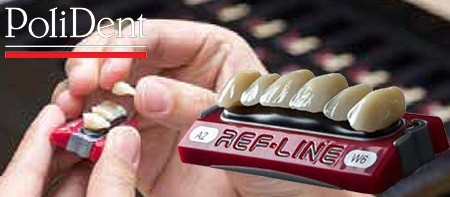 Further expanding our portfolio of products, Axsys Dental Solutions has entered into a distribution agreement with Polident d.o.o of . Volčja Draga, Slovenia to provide its dental PMMA discs and new line of anatomical teeth - REF-LINE designed for the most demanding cases.
Axsys offers PMMA CAD/CAM discs from Polident for use in the fabrication of:
Temporary crowns and bridges
On-model verification of restorations
Digitally designed highly esthetic and functional dentures
Castable frameworks for metal casting and castable layers for press ceramic.
Stents for implant planning made from Xray visible material
High-quality dental models
High end anatomically shaped multi-layer tooth line for new generation prostheses.
The new REF-LINE line of artificial acrylic teeth is based on new production technology and composite acrylic material that offers improved resistance to mechanical wear and higher hardness, natural color and shape.
REF-LINE line is characterized by:
Natural moraphology of tooth surface
Incisal cracks and minor irregularities
Transparent incisal area
Visible mamelons in the dentin area
Intensive chromaticity of the gingival region
Including cervical wider shapes of tooth designs for covering metal structures in implants and partial prostheses
Obscured fissural zones on the occlusal surface
Anatomically designed pronounced cusps assure the maintaining of the natural tooth appearance and structure in individual matching with the antagonists
Perfection of tooth design
Retention opening on the lower part of transcanine teeth provides for easier and faster work
We are very happy to partner with such a young focus-driven company to supply our expanded line dental materials and denture solutions. The addition of Polident products enables us to provide even more high-quality solutions to our customers at attractive market prices.
More information about our Polident products can be found at: https://www.axsysdental.com/NOC/artificial-teeth-and-other-specialty-pmma-cadcam-discs